Safeguarding 
Safeguarding at St Catherine's College
"Pupils are happy and optimistic and pupils feel safe."

- Ofsted Inspection, November 2019
Here at St Catherine's College we passionately believe in the right of every child to be able to lead a life where they can grow up to be healthy and thrive. This aim is what drives the work we do and is a part of every decision that is made about our students. We work hard to teach children how to keep themselves safe through our E-Safety, PSHE programmes and work within the curriculum, and will strive to teach them the skills and knowledge to develop a sense of responsibility and care for each other.
At St Catherine's College we work alongside our students, their families and other agencies to help them see that, no matter how difficult their situation may be, we can help them to get through and will support them and their families every step of the way.
We have a robust Child Protection and Safeguarding Policy in line with recent guidance and warmly invite parents to read the policy and contact the Designated Safeguarding Lead if they have any concerns or suggestions.
Advice for parents on talking to your child about online sexual harassment and sexual abuse.

If you have any concerns around "Harmful Sexual Behaviour" click here

If you have any student concerns please click here (Online Yellow)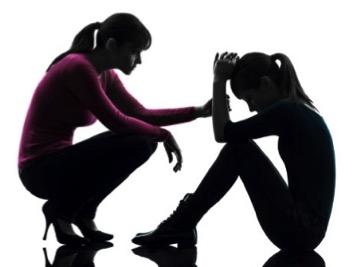 'It wasn't until I started talking to someone at school that I got the help I really needed. I knew that someone was there and wanted to help.'

Sara