Examination information
Year 11 Mocks
These will take place over three weeks, before and after the Christmas Holidays. The times and dates for each subject can be seen below. Dates for Modern Foreign Language Speaking exams will follow.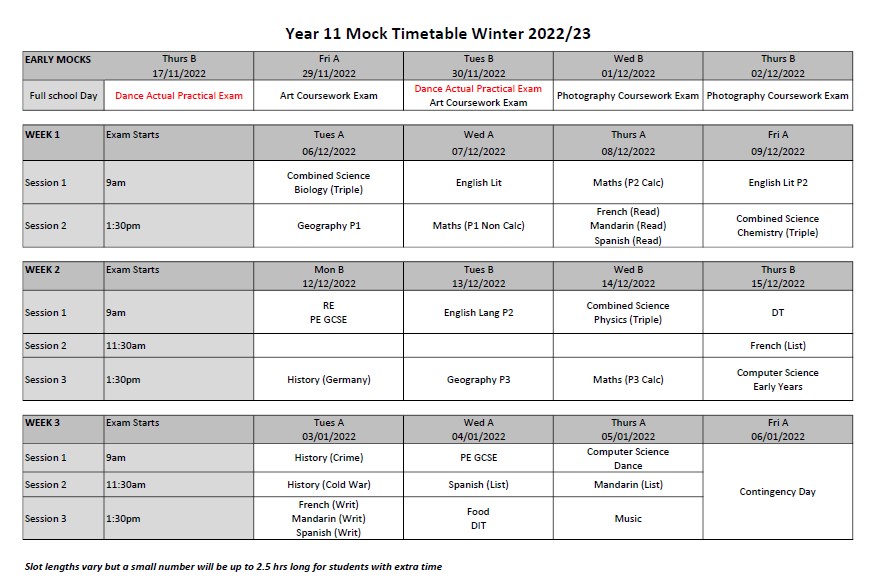 The Year 11 Team will be discussing the Mocks with Year 11 students to help prepare them for these exams. In the next few weeks students will receive individual exam timetables but exam entries and timetables are now becoming visible on the 'My Exams' page of the Arbor portal for both parents and students.
---
Examinations for 2022-23
The provisional dates for the Summer Exam Series in 2023 have been set for 15th May until 21st June 2023. This year, in addition to the set dates 22nd June to 28th June have been allocated as 'Contingency Exam Dates'. This is to provide an opportunity to reschedule exams in the event of unforeseen cancellations, such as a Covid outbreak.
It is important that parents and students understand that these dates could still change and that holiday plans should not made close to these dates or within the contingency period. This page will be updated with finalised dates once they have been set by the examination boards.
In addition to the Summer Exam period, throughout the year students may have structured Internal or External Assessments and Unit Examinations for some qualifications. We will continue to update this page with upcoming dates as they are arranged, but it is important that parents and students make themselves available for these additional dates.
17th November 2022 - Dance GCSE Practical Exam
18th November 2022 - BTEC Sport Unit 1 Online Examination
25th November 2022 – Contingency date for BTEC Sport Unit 1 Online Examination
30th November 2022 – Dance GCSE Practical Exam
27th January 2023 – Early Years Unit 3 Exam
1st February 2023 – DIT Unit 3 Exam
2nd & 3rd May 2023 – GCSE Art Exam
4th & 5th May 2023 – GCSE Photography Exam

---
Examination protocol
Please note the following for all exams, whether mock or final:
Morning exams start at 9.00am, afternoon exams start at 1.30pm – However check your timetable for exact timings
Pupils are reminded to look at their exam timetables on Arbor for the dates, rooms and timings of each exam.
Pupils should meet for their exam 15 minutes prior to the published start time and check the Yellow Bulletin where they will be advised of where to meet for their exam.
Students should arrive to each exam with their clear pencil case containing all of the stationary they need.
Pupils should arrive in full school uniform to sit their exam
Any pupil arriving late to an exam may be refused entry
Pupil should be familiar with the documents below which show the rules and regulations of external exam.
---