Meet the team: Solomon Berhane, Headteacher at St Catherine's College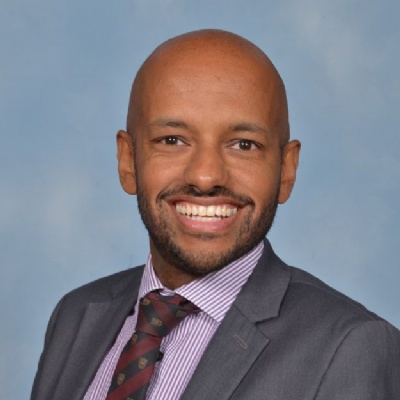 In our new 'Meet the Team' series, we are getting to know all our fantastic staff, giving you an insight into what they get up to each day, what they love about St Catherine's College and why they embarked on a career in education.
First up it's our new Headteacher, Solomon Berhane who joins us this September.
Mr Berhane joins St Catherine's College from the Beacon Academy in Crowborough - a school considered the most improved in East Sussex and now placed in the top three per cent of schools nationally for student progress.
Tell us a little bit about yourself
I have worked in education for 20 years now, beginning my teacher training in Hastings. I soon realised that teaching was my passion and firmly believe that education is the passport to the world.
Have you always lived in Eastbourne?
Since arriving in the UK aged four, my family and I have always lived in Eastbourne. We settled in Hampden Park and I attended Highfield Primary School, Hampden Park Secondary School and went to the local sixth form college. I still live in Eastbourne with my wife and children, we are so lucky to have the beach and South Downs on our doorstep – it's a fantastic place to live.
What do you enjoy most about working in education?
Children get one opportunity to invest in their education and it is a hugely informative part of their life. Young people see the world in a different light, a light where anything is possible, which is hugely inspiring each day. I really enjoy seeing how pupils progress, grow in confidence and challenge themselves. I've worked across a number of schools in East Sussex including Beacon Academy, St Catherine's College (formerly Bishop Bell School), Hampden Park and Willingdon Secondary School also as a specialist leader in education and have also worked in a wide range of schools across East Sussex.
What excites you most about becoming Headteacher at St Catherine's College?
Not many people realise this, but I used to work here as a Mathematics teacher and so in many ways, it feels like I'm coming back home. I also used to live locally, in Beatty Road as a child so it brings back many memories for me working in this area of Eastbourne too. I have always wanted to work in a church school and St Catherine's College has given me that opportunity. The staff and students here are fantastic so I'm looking forward to seeing what the next year has in store.
Working with children has had a huge impact on my educational philosophy as I have come to realise that each child learns in such different and fascinating ways. I believe that in teaching, a style that is personalised as closely as possible to the individual student, is the most ideal way to connect with them and contribute to their development.