We are St Catherine's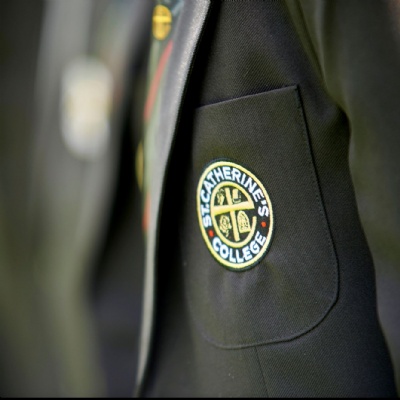 As of 1 August 2016 The Bishop Bell CofE School is now St Catherine's College - A Church of Englad Academy and part of the Diocese of Chichester Academy Trust.
Who we are?
Children are at the heart of everything we do here at St Catherine's College. Our mission is more than this: it is about a journey together in which children, staff and parents, with the support of governors, work in harmony to listen, learn and achieve. Keeping children at the heart of all we do, the culmination of the St Catherine's College journey is to enjoy achievement and success. There are no 'ceilings' for our children; we are passionate about providing personalised support for every individual. We love to celebrate the pupils' many successes and hope you will want your children to experience a St Catherine's College education.
We are proud of being a church school, and the many benefits this brings are best seen in action. We'd be delighted to meet you.
Article from DCAT Newsletter
Staff at The Bishop Bell Church of England School in Eastbourne are delighted to be joining the Chichester Diocesan Multi Academy Trust over the summer.
When the governors first decided to look at the viability of becoming an academy, it was of vital importance that the School retained its Christian distinctiveness. On deciding to join the MAT, Chair of Governors, Dave Jeffries, said that the School will be able to "maintain its Christian ethos and standing as a Church school … whilst having maximum freedom and autonomy in its day-to-day work".
The transition from Bishop Bell School to St Catherine's College will be finalised on 1 August. The new name reflects the School's mission statement as they 'listen, learn and achieve together'. St Catherine was a Doctor of Scholarship and Teacher of the Faith. She was recognised for being honest and standing up for what she believed to be right. Mark Talbot, Head Teacher, said that St Catherine's legacy underpins what his staff and pupils deliver. Already a hugely successful school, a recent Section 48 inspection reported that "the school community has a well-developed social conscience". [Section 48 inspection March 2016]. Mr Talbot said that "St Catherine was a respected, charitable, peace-loving figure. What better example is there for our pupils?" He added, "We are very excited about the coming months and years. Our new name, uniform and house system are just the first steps on our journey towards excellence in everything we do and I am proud to stand at the helm of this wonderful school as it looks to a bright and successful future."