Busiest Open Evening Ever!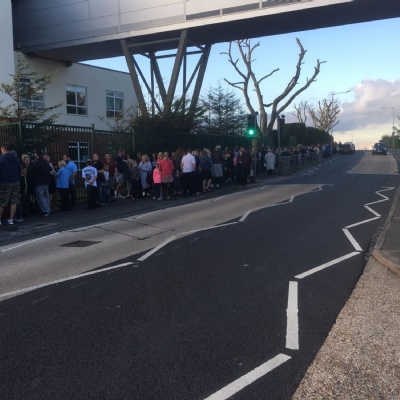 The queue for Open Evening stretched out of site as families arrived to tour the College and to hear Mr Talbot speak.
Tours commenced at 5.45pm and families were still arriving at 7.30pm to be shown around. Pupils and staff worked really hard to make all of our visitors welcome and to show the College at its very best. There was much to see: exciting scientific experiments, dance and drama workshops, art displays, Mandarin, French and Spanish staff sharing their vision for the future as they served food from their country, and classrooms displaying outstanding work. A very special thank you must go to our wonderful pupils who acted as guides or assisted teachers in subject areas.
The deadline for applications for a place next September is 31 October. Applications must be made by logging on to eastsussex.gov.uk and clicking on the 'education' tab at the top of the page, then following the links under 'find a school place - school admissions'. For those applying under the Foundation criteria (ie. pupils who attend religious worship regularly - at least once a month for a year) also need, in addition to the County application, to complete our own supplementary application form to be found in the School Prospectus. Please note: if your child currently attends a church school (including Tollgate) but does not attend regular religious services, you do not need to complete the supplementary form.