The Mathematics Progress and Achievement awards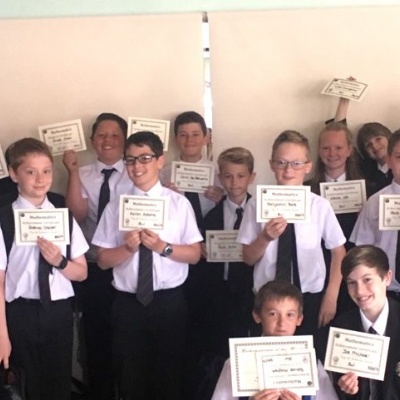 160 Pupils have been awarded with progress and achievement certificates in mathematics. We have selected the 20 highest achieving pupils in each year to receive the achievement award. We also have selected the top 20 pupils in each year who have made the most amount of progress over the year. Certificates have been handed out to pupils in years 8 to 10 by their teachers. Our year 7's received their awards in worship on the 16th June. Each pupil receiving either award has also earnt themselves 10 housepoints. The complete set of names will be displayed in the Maths corridor.
Well done to the following who have received an award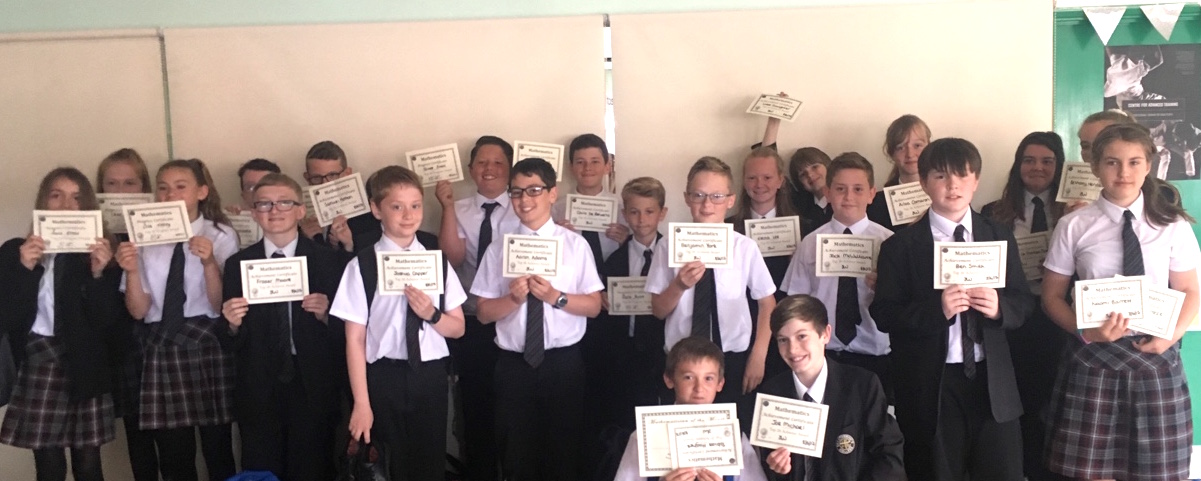 Achievement
Year 7: Benjamin York; Aaron Adams; Samuel Hotton; James Small; Joshua Capper; Carlo De Retuerto; Oliver Hobden; Tobias Hughes; Luke Slaughter; Fraser Moore; Naomi Barrett; Jack McWilliams; Bethany Hennessy; Amber Matthews; James Wells; Ben Smith; Ailsa Cameron; Suraya De Freitas-Jones; Elena Lee; and Joe Michael.
Year 8: Mia Lozinski; Erik Metaliaj; Hector Evett; Navpreet Sandhu; Julius Stokes; Phoenix Montgomery; Delight Akerejola; Alice King; George Redmill; Thanaksan Yogalingam; Callie Burbidge; Jamie King; Theodora Redmill; Atlanta Montgomery; Phoebe Lambert; Harrison Hall; Aimee Hay; Andrew Anderton; Marshall Gibbs; and Jasmine Ramazannejad.
Year 9: Daniel Finn; Matthew Finn; Alex Gilbert; Joshua Kindleysides; Beth Williams; Robyn Foster; Jessica Oliver; Hannah Payne; Sayedul Alam; Jack Singleton; Emmeline Bell; Jack Gorringe; Ashlyn Weekes; Holly Chatenoud; Eloise Clark; Max Gausden; Millie-Louise Thomas; Baxter Atkins; Philippa Jewell; and Lewis De La Mare.
Year 10: Samuel Lawrance; Amelia Cousins; Beloved Akerejola; Mehreen Husain; Olivia Bretherton; Poppy Morgan; Nadim Uddin; Jack Hilton; Bernard Weston; Jack Hobden; Zak Boelema; Luke Singfield; Samuel Williams; Joshua Allaway; Thomas Schrikker; Edward Garbett; Mackenzie Lumley; Ian Down: Joseph Wells; and Thomas Wells.
Progress
Year 7: Naomi Barrett; Joseph Constable; Brandon Gower; Rebecca Thompson; Gregory Edge; Jacob Readman; Sophia Pawley; Orla Tinsley; Skye Smedley; Suraya De Freitas-Jones; Keagon Grandhaie; Rocco Bates; Keontez Armstrong; Annie Allport; Millie Mateides; Chloe Gower; Jasmine Subuloye; James Small; Amber Davis; and Issey Otto.
Year 8: Sean Mays; Thanaksan Yogalingam; Lacey Wait; Ethan Bovill; Matthew Coetzee; Brian De Souza; Julius Stokes; Daniel Weller; Matthew Thompson; Amy Warner; Dominic Pritchard; Jack Bowler; Jessica Ely; Ethan Goodwin-Crisell; John Lindsay; Witold Marcinkiewicz; Demi Slatcher; Kenzy Hyde; Holly Ottley; and Summer Whybrow.
Year 9: Levi Herring; Max Gausden; Philippa Jewell, Holly Chatenoud; Hannah Payne; Daniel Atkins; Emmeline Bell; Joshua Kindleyside; Danielle Mason; Jack Gorringe; Suzi Sellers; Millie-Louise Thomas; Jamal Williams; Sayedul Alam; Lewis De La Mare; Robyn Foster; Jack Singleton; Emma Wilson; Daniel Finn; and Ashlyn Weekes.
Year 10: Mehreen Husain; Humayra Siddique; Michael Gomes; Joann Sajan; Bernard Weston; Owen Hawes; Jack Hobden; Max Crowhurst; Jaymie Morris; Murran Watts; Amy Relph; Zak Boelema; Johnathon Kelly; Sophie Fulbrook; Kyle Spicer; Tiya Mohl; George Sadler; Nadim Uddin; Haven Ingram; and Jadesola Kuforiji.
A huge well done to everyone receiving the awards, this is a fantastic achievement.