The Gambia Trip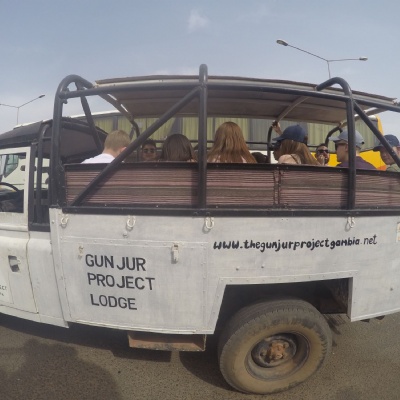 After visiting The Gambia to volunteer with Football 4 Peace (http://www.football4peace.eu/) in April 2015 Miss Murry and Mrs Dolan (who had also previously visited Gambia) came up with a plan to take a group of 24 pupils to visit the 'smiling coast'. We found the perfect accommodation in the village of Kajabang. The staff at the Gunjur Project Lodge (http://thegunjurprojectgambia.net/) were fantastic from day one. The location and facilities were exactly what we needed, they also coordinated all of our activities and excursions as well as providing us with amazing food! The trip consisted of a number of cultural excursions and sessions led by our pupils in local schools.
Our mornings started at 8am with a lovely breakfast or those that were really keen could get up and join Mr Newham Bentley and Miss Murray for running club at 7am. We would then go to one of the local schools to teach local children with the local Football 4 Peace coaches from Gambia. Our pupils led fantastic sessions using a values based approach. Games and activities involved a lot of team work and r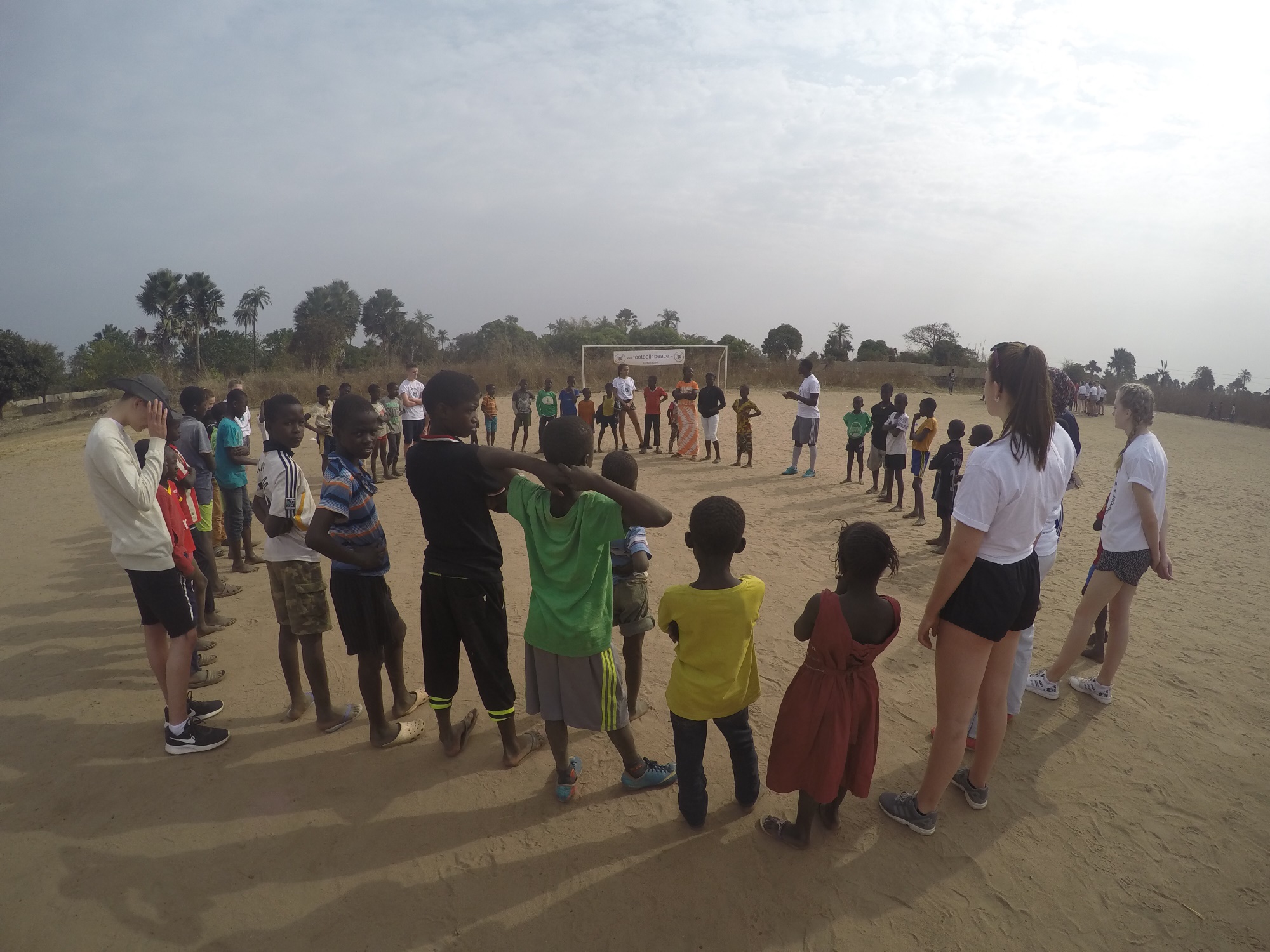 evolved around the five Football 4 Peace values which are 'respect, responsibility, trust, equality and inclusion'. The standard of the sessions was amazing, we definitely had some future teachers in the group! The pupils interacted so naturally and took a lot of pride in the work they did with the schools. Our final session of the week was a sports festival where we had 12 teams of 15 pupils taking part in a 'fair play' tournament where points were awarded based on their demonstration of the values within the three sports of football, netball and rugby. Each team was led by our pupils, the winning team Canada and was led by Jade and Freya. Good work guys! The festival was a lot of fun, we had all the teachers from the local school come and support as well as a local drumming band to provide some great background music! St Catherine's pupils were able to teach the local children games that they have learnt at school and we also took some great ideas back with us. A personal favourite being the Gambian version of 'duck, duck, goose'!
After our coaching sessions we would cool off from the 32 degree heat by having a well deserved dip in the pool! After lunch we took part in a range of activities. These included a great interactive visit from the local scout group who got us all up dancing and singing,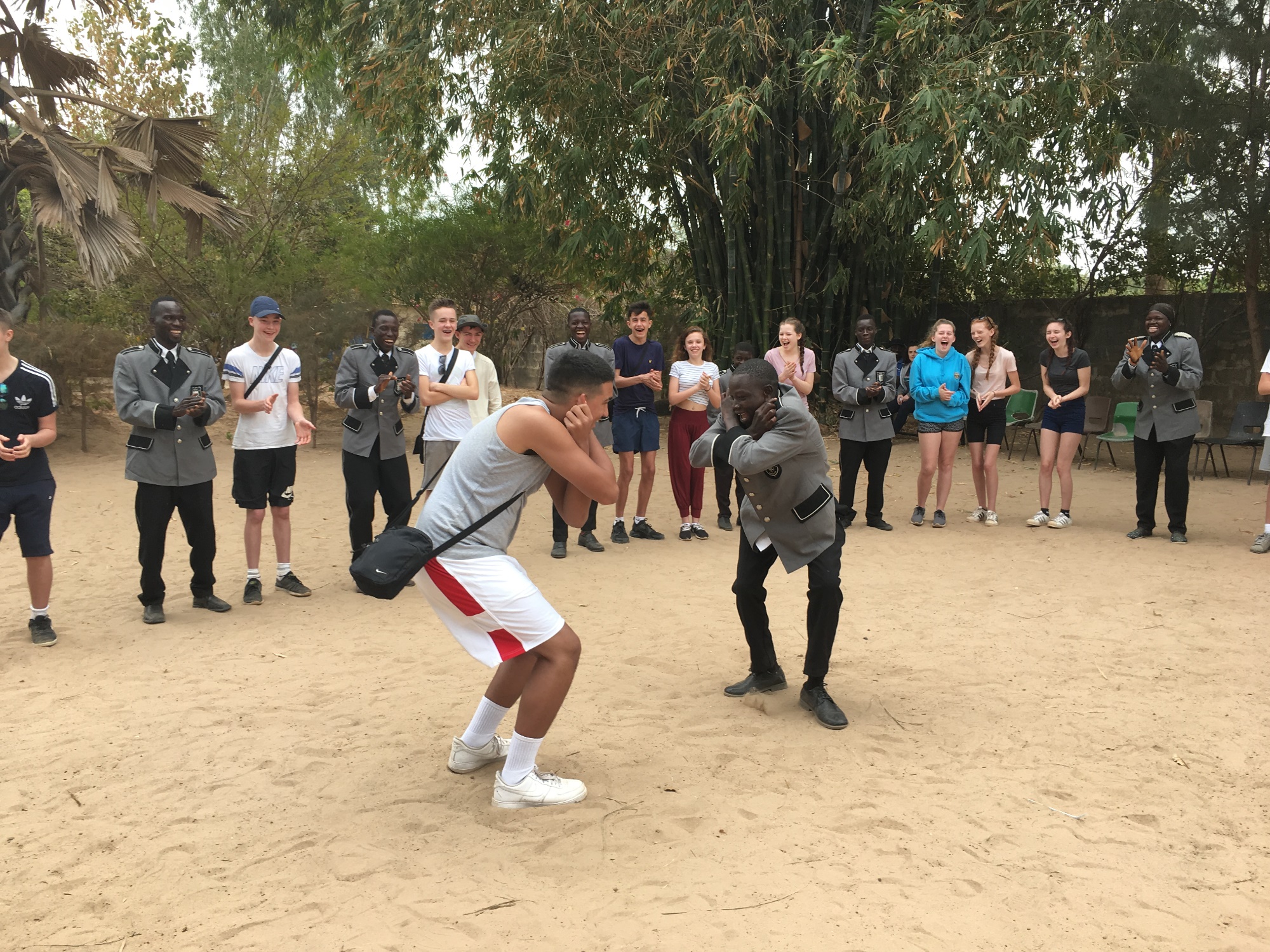 it's hard to choose between Mr Lau and Mr Newham-Bentley as to who had the best moves! Both had a very distinct style! We took part in some workshops one afternoon, we made juices using freshly picked fruit, we learnt how to make Gambian donuts, these were delicious! We also learnt how to properly wash clothes by hand as there were no washing machines where we stayed, everything is washed by hand! The pupils found this challenging but were full of admiration for the staff that did this all day. One afternoon we visited Brikama market where pupils were able to purchase fabric by the metre that could be made into clothes by the local tailor. This was very exciting, the pupils had some wonderful clothing and gifts made by the very talented tailor Hadim.
We also visited a local 'women's garden' where local women grow a wide range of produce. Our pupils got stuck in with watering the plants and realised how hard it is to successfully grow vegetables to feed their families in such extreme heat. All the water had to be taken from a well which was tough on your arm muscles!
We had a great tie dye workshop where pupils produced some fantastic patterns on their clothing which they wore with pride when they were dry.
We visited two nature reserves where we saw a vast range of birds, including vultures and pelicans. We also were lucky enough to see crocodiles in the wild too, luckily we didn't get too close to them!
Our evenings were amazing, we had a range of local bands and groups visit us and provide us with some great music and entertainment. These were always very interactive with our pupils and staff getting involved with the dancing throughout. They certainly knew how to strut their stuff on the dance floor!
One of the main reasons we wanted to visit Africa was to be able to take crucial donations that can have a huge impact on people's lives in The Gambia. For a year building up to the trip pupils, parents and staff bought in amazing items for us to donate. Mrs Dolan did a superb job of sorting through and organising the 15 extra suitcases that we took out with us. These donations ranged from reading books to football kits and school uniforms to sports equipment and everything in between.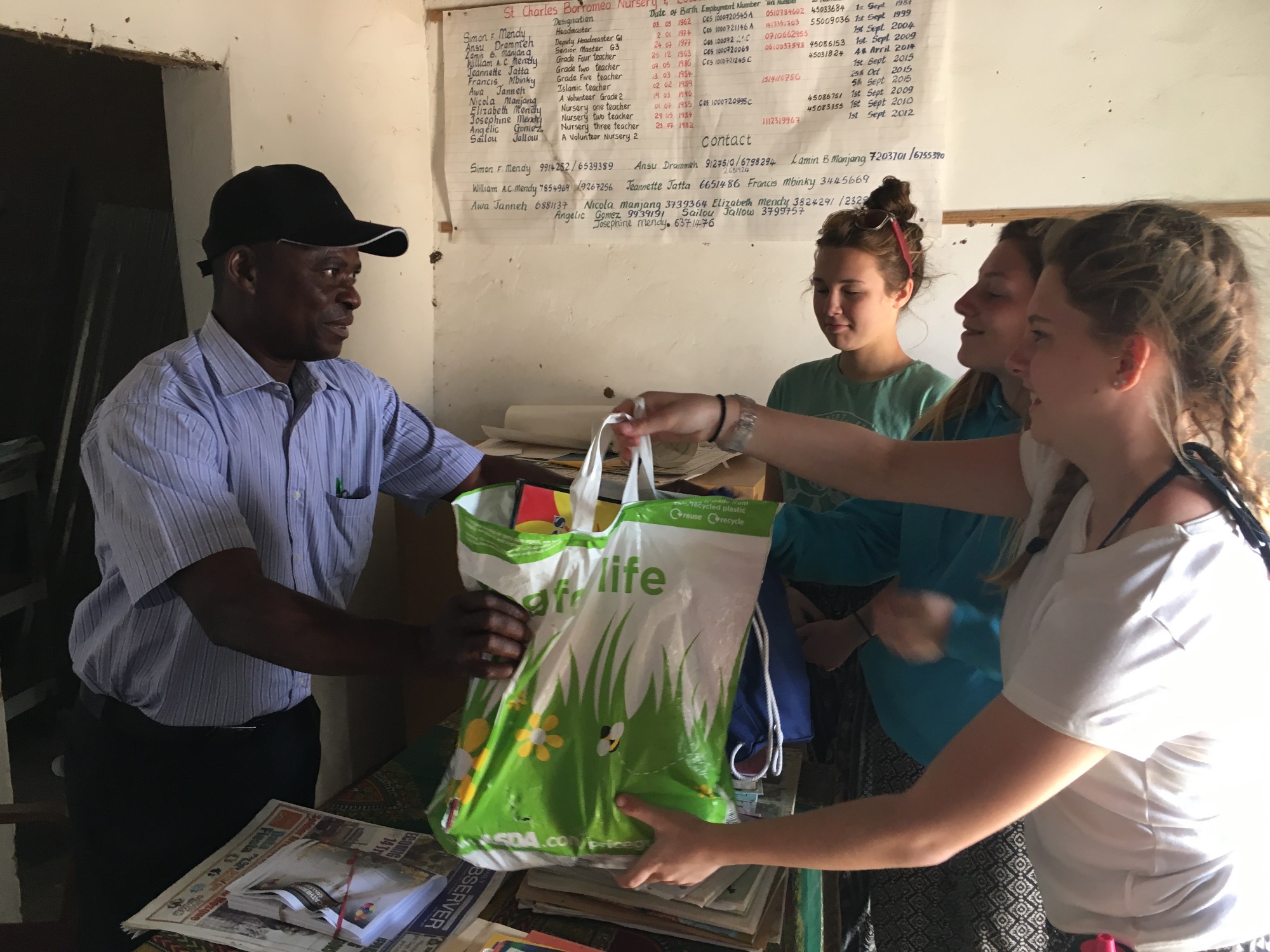 Throughout our week in Gambia we delivered these items to different locations in and around the town of Gunjur. To say that these communities were grateful is an understatement. Staff at the Gunjur Project were able to identify schools and other establishments or charities that would benefit most from our donations. Pupils and staffed were extremely moved when we took these donations. The 'Greater Tomorrow' football academy thanked us with a wonderful prayer and explained how the cases of football boots and the bags of kit will be used by over 300 children that are a part of their academy. The 'Immaculate Conception' primary school were blown away by the books and stationary that we donated. The school has tiny classrooms that fit over 50 pupils in, there is no electricity at the school and no toilet facilities yet every single child there greeted us with a smile and showed huge appreciation for our donations.
Building up to our trip pupils raised awareness of the poor conditions a lot of Gambians live in and managed to collect cash donations from their family and friends, this amounted to an amazing £700. With this money we were able to buy food packages consisting of essential supplies that would feed a family for a month. We were able to visit some of these families and deliver the goods ourselves. To see the conditions that these people live in and how little they have was extremely moving for us all. It was amazing to know that our small donations have made such a huge impact. One local family even said that if we had not donated food on that day that he did not know where he would be able to get his next meal for his family from.
Part of the £700 raised also went to an eye project coordinated by Gunjur Project Lodge. With your fantastic donations we were able to fund six cataract operations for people that previously could not see and now can have operations to make them see again. The local nurse Bai Falong is currently hard at work coordinating these operations with local clinics. I will update the St Catherine's twitter account with more news as and when I get this.
We had an amazing time in Gambia, each and every pupil was an absolute credit to the school, it was truly inspiring to watch our pupils spread so much joy and happiness to the people of Gambia. I know that we all came away feeling that we gave something to the people we met but also took away some fantastic memories. Thank you to all staff and pupils that made this trip such a success.
Take a look at the photo gallery of some of the amazing things staff and pupils did here