School currently has limited opening owing to the COVID-19 Pandemic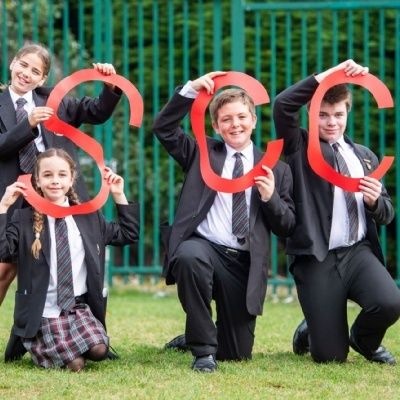 More information can be found here.
Why were schools and colleges across the UK closed?
The UK Government's initial scientific advice was that children and young people are most resilient to the virus and keeping them in school keeps them safe. However, the Coronavirus spread quicker than anticipated and the Government directed all schools to close at the end of the day on Friday 20th March 2020.
St Catherine's College has remained open for the children of key workers and vulnerable students. Key workers are people who – in these unprecedented times – are needed on the frontline. That means those working in the NHS; in care homes; in the police and fire service; and teachers. It also includes people who are involved in retail delivery and those manufacturing medical equipment. We want to assure you that we are taking as broad a view as possible of who our key worker parents are, in order to help keep the country at least partially open whilst it is safe to do so. 'Vulnerable' children include those with education, health and care plans (EHCP) and those who have a social worker. We ask that anyone needing this service contact Mrs Guppy (kguppy@stcatherines.college) to make an application.
How long will schools be closed?
The announcements suggested that schools would be closed for a 'considerable' amount of time. A gradual re-opening of schools commenced on 1 June (with selected Primary phase classes), continuing with a maximum of 25% of Year 10 in secondary schools from 15 June.
Why were all exams cancelled?
Once it became clear that the epicentre of the virus was going to be in the middle of the exam season, the prospect of running a full suite of exams became unfeasible. Exam grades are being calculated by the exam boards and results will be issued as normal on Thursday 20 August.
Further details can be found on the GOV UK website.
What about your children at home?
The expectation for our staff is to set work that students will find engaging and useful. We will still be 'teaching' the students. Our methods may have changed, but we will still be giving feedback and helping students improve their knowledge base.
However, we are very aware that keeping students motivated to learn at home will be a tricky role for many families. Some families will be fully aware of how to do this, but in case any of us begin to struggle with this at any time in the forthcoming weeks, some of these tips may be of use:
Set out a structure for the day with chunks of time for school study, breaks, TV and family time. Plan time to relax as well as time to work.

Plan exercise within your routine. This might be through an app, YouTube videos, or simply by running up and down the stairs.

Beware of too much TV or gaming - you may struggle to tear yourself away from the screen and it will be hard to make learning happen. It is best to work through films etc with an agreed evening slot - or whatever works for your family.

Talk to your children about fitting in your work with their work (if you are working from home as well). Negotiate where necessary!

Encourage reading.

Encourage them to learn as many life skills as possible - cooking, laundry, ironing, DIY etc.

Do puzzles and play board games such as chess and Monopoly etc.

We also strongly encourage students to find out about their family history and maybe show them photos of yourself or their grandparents when they were younger.

Look out for people less fortunate than themselves, especially elderly neighbours or relatives.
Of course, anything additional you find that works, please let us know and we can share ideas with each other.
Who to contact?
Reception will be open Monday to Friday 8am – 3pm. (01323 465400)

Student Services will be open 9am – 3pm. (01323 465400 opt. 2)
Teaching staff can be contacted via email. Staff email addresses can be located on our website.

IT Support can be contacted by email: itsupport@stcatherines.college/
If you have any safeguarding/welfare concerns, please contact Kerry Guppy: kguppy@stcatherines.college.
​If you need to reference any of the school communications which have been sent through the lock-down, you can read these on our letters page.
Mental Health and Student Self-care
Student mental health has become more of a concern. Guidance is available at:
https://www.mind.org.uk/information-support/coronavirus-and-your-wellbeing/
https://www.annafreud.org/on-my-mind/self-care/ https://www.who.int/docs/default-source/coronaviruse/helping-children-cope-with-stress-print.pdf
We will endeavour to make your children's educational experience as usual as possible. If you have any feedback, please do not hesitate to contact us. We have planned for this diligently, but it is new territory and the landscape is constantly changing. As mentioned in previous letters - your child's education and welfare remains our focus.
Free School Meals
If your child qualifies for free school meals, you are entitled to receive supermarket vouchers to the value of £15 per week. We are using the government led scheme that is managed by Edenred and vouchers are emailed out to families on a fortnightly basis. If you are experiencing any difficulties in receiving/redeeming your vouchers, please contact: mmaynard@stcatherines.college.
Hardship
We are acutely aware that some families may need help to purchase food and toiletry/sanitary products at this difficult time. We have allocated a budget to help families that need support with this. If you need support with meals and household basics for the students, please contact Mrs Maynard: mmaynard@stcatherines.college
DfE guidance
The current government guidance can be found at:
https://www.gov.uk/government/publications/closure-of-educational-settings-information-for-parents-and-carers/reopening-schools-and-other-educational-settings-from-1-june and at: https://www.gov.uk/coronavirus/education-and-childcare