Our Learning 
"Teachers have high expectations and help students achieve well"

-Ofsted
At St Catherine's College we provide an exceptional and engaging learning experience for each and every child. We pride ourselves on our inspirational teaching and innovative curriculum which enable our students to make amazing progress. Each individual child is at the heart of what we do and we focus on ensuring that all of our students are challenged to achieve excellent outcomes. Our recent accreditation with Confucius Status for our exemplary teaching of Mandarin is one example of our exciting and enriching curriculum.
In the majority of subjects, students are grouped into ability sets right from the start. This means that we can personalise our teaching and support each student with his or her individual learning needs. For those who need it, we offer additional support, catch-up classes and one-to-one tuition. We also stretch and challenge our more able students.
We have a broad and balanced curriculum which is rooted in academic rigour and has strong foundations in English and Mathematics. Our commitment to making sure that every student achieves superb examination success provides the opportunity for our children to succeed in the 21st century. The students benefit from an accelerated Key Stage 3 and an extended Key Stage 4, as this allows them to prepare for their final examinations in more depth. This means that students in Year 8 are guided to make subject choices that will bring them success at GCSE.
"A key ingredient in the school's success has been the training of staff to better meet the needs of the students. Through lesson observation, coaching and working together as a team, areas of good practice and expertise have developed across the school. As a result, teachers are in demand to advise and train other teachers within the local authority and beyond."

-Ofsted
We are very proud to be holders of Investors in People Gold, which is testament to the excellent staff that we have at St Catherine's College and the emphasis that we place on staff training and development. We firmly believe that learning is a life long journey and that the staff should walk alongside the children on their pathway to knowledge and understanding.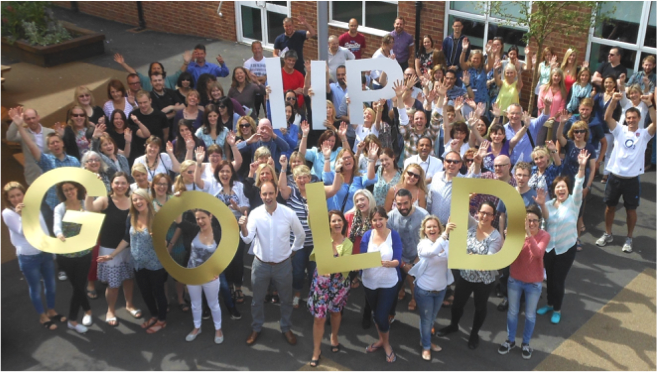 All classroom staff take part in our 'Teachers as Learners' programme, which engages staff in their own research projects. This means that we always have a focus on developing our own understanding and expertise so that we can make sure that the learning for the students is up to date and stimulating. Some examples of current research areas are: "How to make students resilient learners", "How to enthuse gifted and talented pupils" and "How to develop a growth mind set". The staff at St Catherine's College have a wealth of knowledge and experience, but we are always looking to do things in new or different ways in order to keep inspiring and enthusing our students.
"A committed, motivated and engaged staff team who go the extra mile and who are passionate about helping children achieve".

-Investors in People
Our expertise in teaching and learning has been widely recognised and, over the past few years, we have worked alongside other schools to support them with their own growth and development. Through supporting other schools we are also able to learn from them and develop or own teaching practice which, of course, in turn, benefits our children here too.