Careers
Aims and objectives
At St Catherine's College we prepare students by providing them with impartial careers education guidance. We give students the tools to succeed, and inspire them to seek opportunities in education, training and employment, in accordance with the new Careers Strategy (2017) Making the Most of Everyone's Skills.
We work closely with students to fulfil our Mission Statement, "Preparing students to stand shoulder to shoulder with their peers: locally, nationally and globally" to achieve their God given potential. John 10 v10b "I have come that you may have life, and have it to the full" sums up what we are offering to our students."
St Catherine's prides itself in offering all our students the best possible careers guidance. We prepare students for the world of work and support them to make informed decisions about their future options.
If you have any questions about careers, please contact Gisèle O'Connor, Careers Lead on goconnor@stcatherines.college or 01323 465400.
Our careers programme
We update our careers programme annually. It is mapped against the Gatsby Benchmarks and the Careers Development Institute Framework.
The eight Gatsby benchmarks of Good Career Guidance:
1. A stable careers programme
2. Learning from career and labour market information
3. Addressing the needs of each pupil
4. Linking curriculum learning to careers
5. Encounters with employers and employees
6. Experiences of workplaces
7. Encounters with further and higher education
8. Personal guidance

Our awards
We have successfully completed the re-assessment for Investors in People. We will continue to hold this prestigious award until July 2022. St Catherine's has held the Quality in Careers Standard for the last 6 years.
If you have any questions about our careers provision, please contact;
Gisèle O'Connor, Careers Lead on goconnor@stcatherines.college or 01323 465400 or
Lea Hepburn, Link Governor for careers at lhepburn@stcatherines.college.
What our Year 11's went on to next, in 2021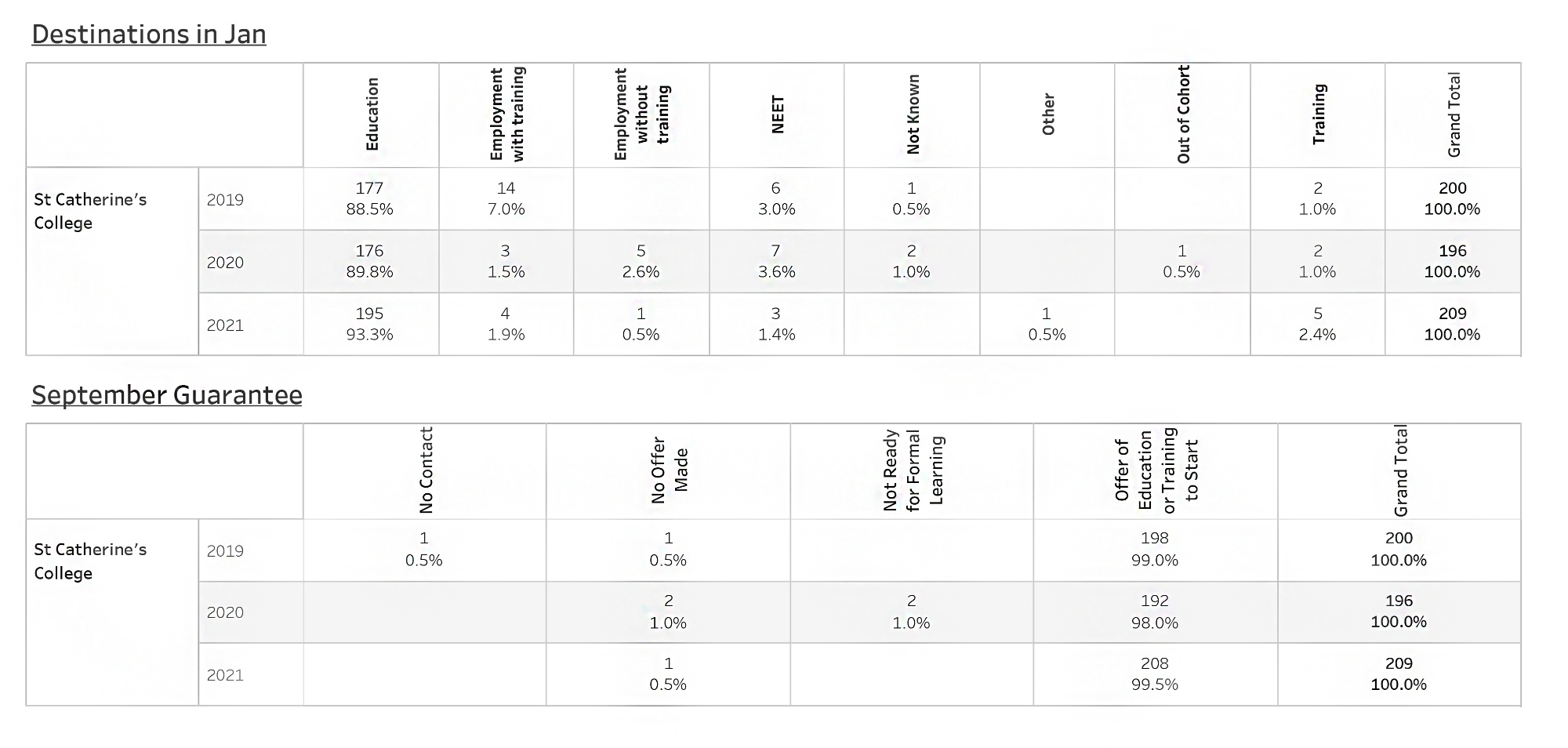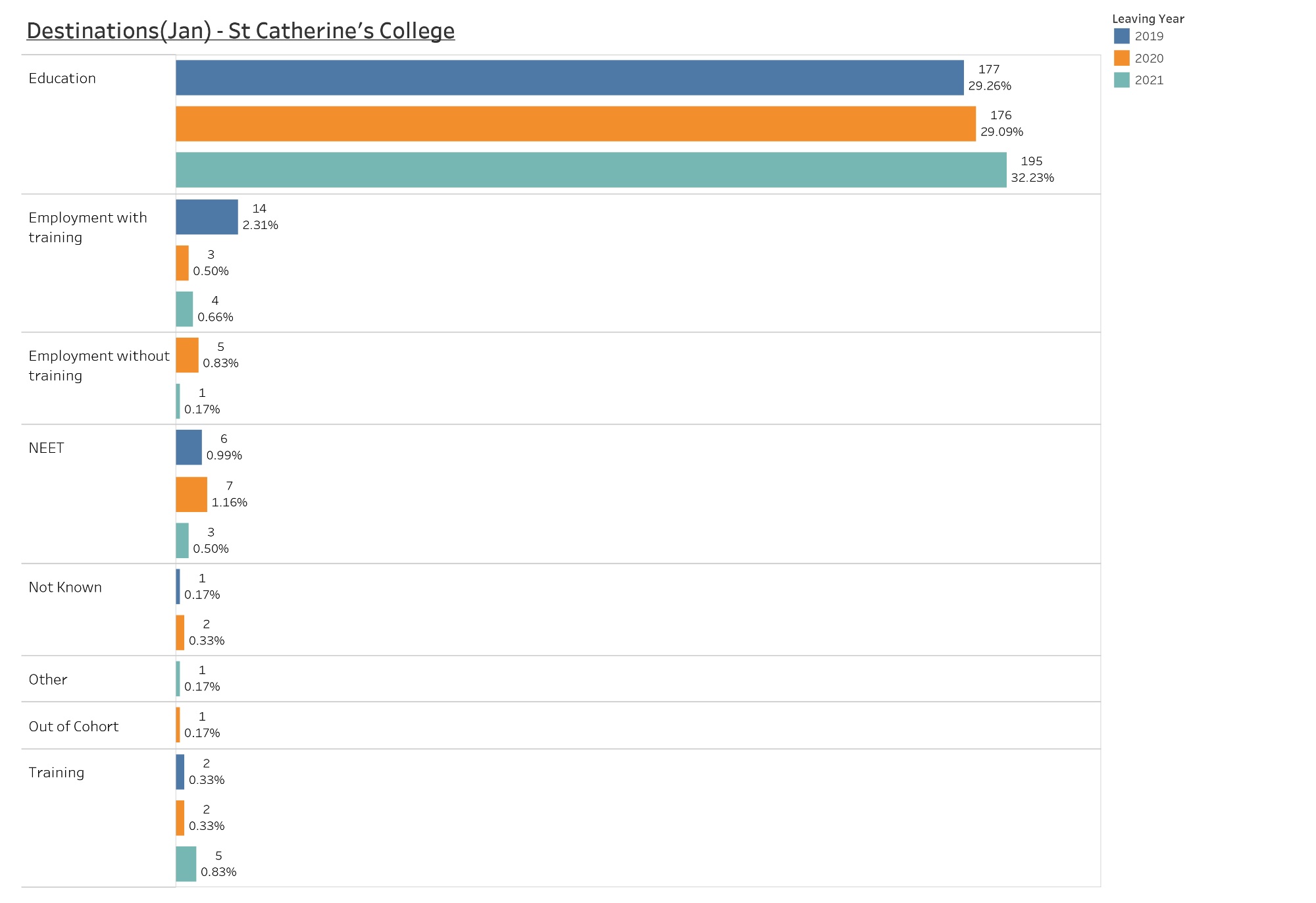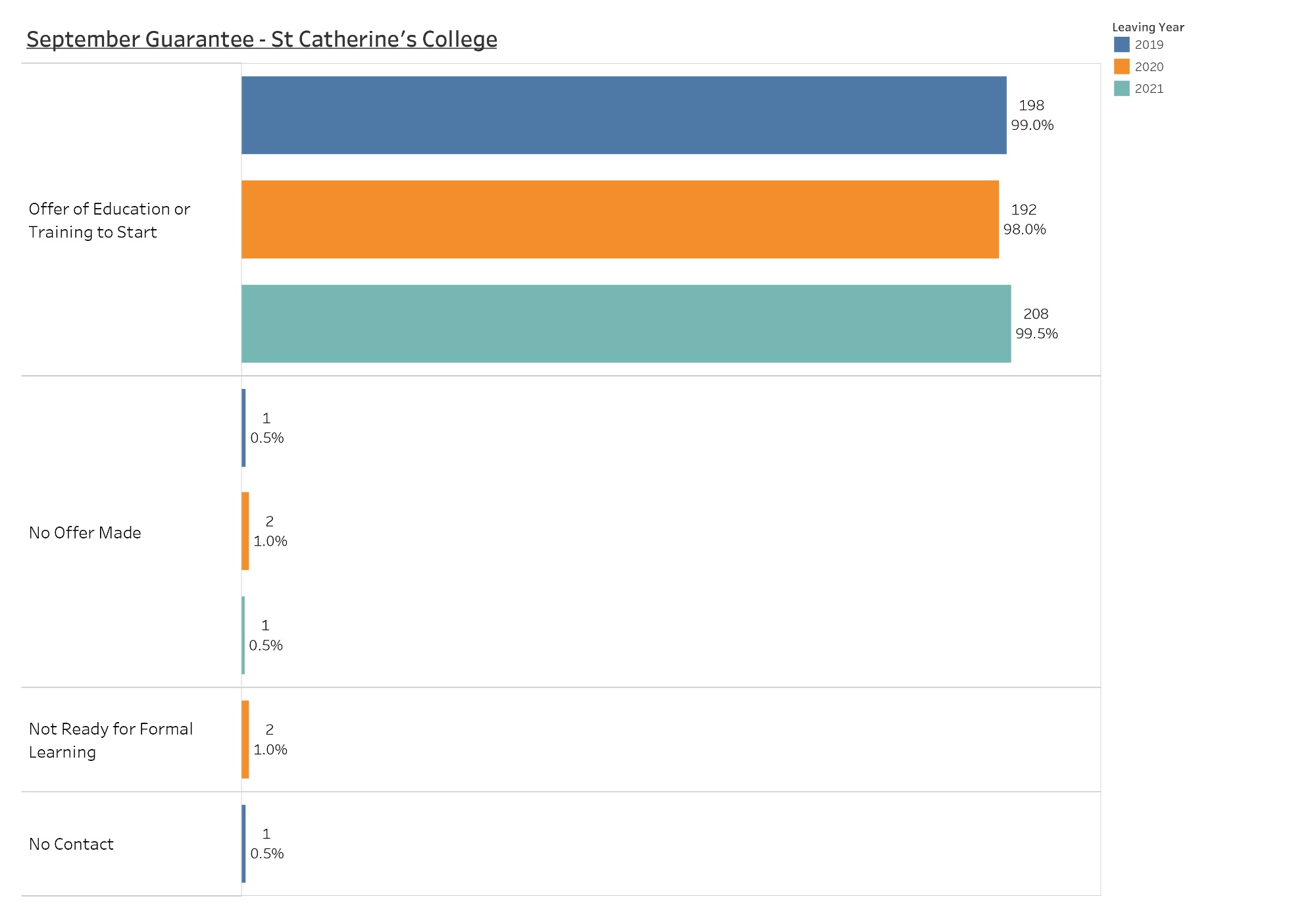 ---
On the East Sussex County Council economy overview see labour market information on work trends, salaries and growing industries.
---
Learn Live UK: Watch live careers broadcasts and see the latest events on the Learn Live Channel.
---
The Parent Perspective podcast is an 8-part series helping you to support your child with careers advice and guidance.
---
Careers and Enterprise Company has the My Choices Guide for parents and guardians.
---
InvestIN has a series of free Success Beyond School events for parents.
The next is 'Success in the city' on how to land a top job in the City: law, finance, consultancy and more.
---
GCSE Pod has parent user guides and quick start guides, and you can explore how to support your child.
---
Youth Employment UK has:
---
Get Career Confident has information for parents and carers helping their 14 to 19 year old make decisions about college and careers.
---
TARGETcareers have Paths to Careers – a Parent's Guide. It contains advice aimed at parents on careers, university and school leaver programmes such as higher apprenticeships and sponsored degrees.
---
Careers in Science, Technology, Engineering and Maths (STEM)
Please see the STEM Learning website for further information.
---
T Levels
These new courses follow GCSEs and will be equivalent to 3 A Levels. The 2-year courses were developed with employers and businesses. They were designed to meet the needs of industry and prepare students for work.
Visit the GOV.UK website to find out about T Levels
---
Opportunities in the motor industry

With over 150 motor careers to choose from, IMI Autocity provides students with the information they need to develop a career in the motor industry.
Their website has motor industry information for parents
---
The 'Careermag for parents' magazine has support and advice for parents. It keeps parents up to date with the latest career and qualification information and outlines a variety of career options for students.
Read the latest issue of Careermag for Parents
---

As a parent, guardian or carer, you'll play a key role in guiding your child as they take their next step. Whether they get top grades or don't thrive in academic environments, apprenticeships shouldn't be overlooked. With new higher and degree apprenticeships popping up each year, they could get the best of both worlds – learning and earning at the same time.
See apprenticeships information for parents on their website or download the latest Parent Pack from the Amazing Apprenticeships website.