GCSE RESULTS: Increases in English and Maths pass rates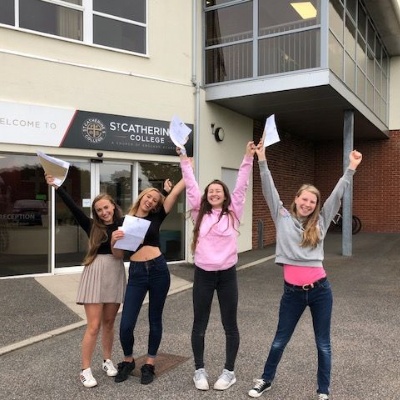 St Catherine's College is celebrating another strong set of GCSE results.
There were improvements across every one of the national headline English and mathematics measures, with significant 6% increases to the strong (grade 5+) pass rates in both subjects.
There was also strength in breadth with pass rates of over 90% in academic subjects such as RE, French and ICT; practical subjects such as Drama and PE, as well as in the vocational subjects of Early Years and Motor Vehicle.
Acting Headteacher Nigel Jewell said: "These results are just reward for the hard work and determination of students, staff and parents".
Particular congratulations to Poppy Morgan, Samuel Lawrance, Beloved Akerejola, Charlotte Jerkins, Nadim Uddin, Anna Willmoth, Milly Dahmoune, Edward Garbett, Thomas Schrikker, Samuel Williams and Emily Wood who all achieved an impressive six or more grade 7s-9s.