Assessment without National Curriculum Levels
Why are we dropping National Curriculum levels?
In 2013, the Secretary of State for Education, Michael Gove, announced that the national framework of levels that had been used to assess Key Stage 1-3 was to be removed. Schools would be given the freedom to develop their own approaches to assessing students.
Parents of children in primary school will have already seen this change happening.
What assessment will new Year 7s come up with?
With effect from September 2016, new Year 7 pupils come to secondary school with a standardised score based on their Year 6 SATS test.
It is expected that the national average standard score will be 100. Standardised scores above and below that will indicate above and below average.
What are the principles that underpin our new assessment system?
It is inclusive of all pupils
It demonstrates that pupils make progress from Key Stage 2 to Key stage 4
It is understood by pupils and parents/carers
It supports and does not detract teachers from making accurate and productive use of assessment
What is our system called?
The school has developed a system called Fine Grading. This will be used throughout the school from Year 7 to Year 11. It incorporates the new 9-1 grading used at GCSE.
How does the Fine Grading system compare with the old National Curriculum levels or with the old GCSE grades?
There is no definitive comparison between the Fine Grading system, old GCSE grades and the old National Curriculum levels. However, the table below shows the approximate equivalences.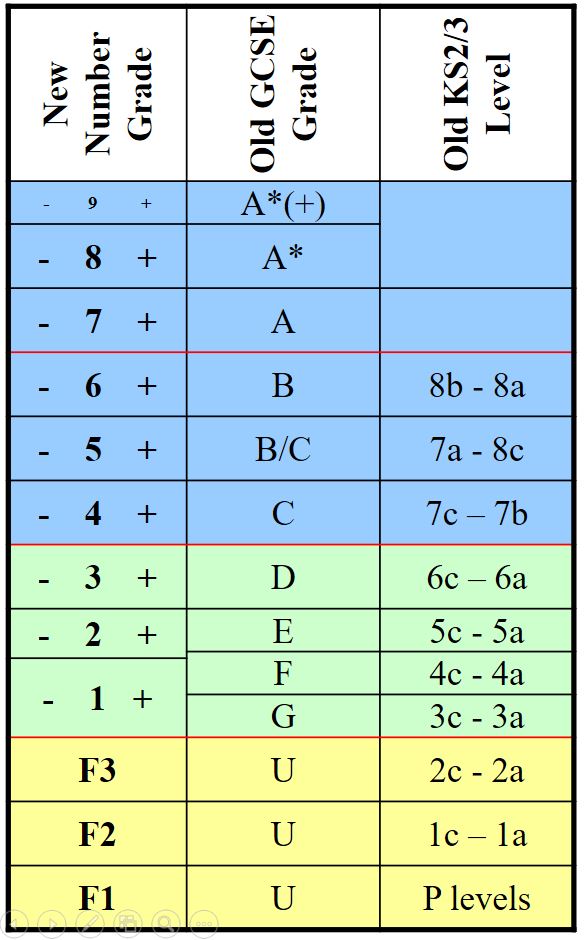 What is F1, F2 and F3?
The 'F' stands for foundation. This element of the Fine Grading system helps to underpin our principle of inclusion.
Why are there + and – signs next to the numbers?
Pupils can be graded:
The + and – signs indicate the confidence of the grade.