Our Mission
We are St Catherine's,
we are on a mission…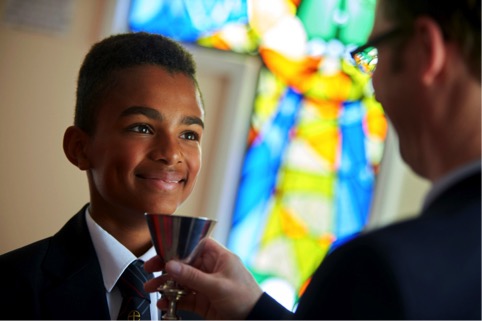 "All pupils in the school have equal, God-given value and the school is a happy, purposeful and thriving Christian Community"

Section 48 Inspection, March 2016
We have a simple and positive mission. St Catherine's College has:
God's children at the heart of everything we do
Together:
We are listening
We are learning
We are achieving our God-given potential
2019/20
Our Curriculum
'I have come that they may have life, and have it to the full' (John 10:10)
Ambitious Hardworking Resilient Responsible
We aspire to ensure that all our pupils can stand shoulder to shoulder with their peers locally, nationally and globally, encouraging them to be ambitious and to fulfil their individual potential. We believe that 'God's children are at the heart of everything we do' and our curriculum reflects the necessary cultural capital that our children require to be successful; "Let each of you look not only to his own interests, but also to the interests of others" (Philippians 2:4)
Our children are unique and made in God's image; "so God created human beings, making them to be like himself" (Genesis 1:27) the essence of our mission statement. The aim of St Catherine's College is to provide an inspiring and challenging curriculum which promotes the spiritual, moral, social, cultural, mental and physical development of all the students at the school. We aim to offer our pupils a rich experience which develops within them a thirst for learning and which inspires them to be the best they can be through hard work and resilience; "The Heavens declare the glory of God; the skies proclaim the work of his hands. Day after day they pour forth speech; night after night they reveal knowledge" (Psalm 19:1-2). Within our Church School, through our curriculum, we will encourage our pupils to respect each person as an individual, seek to develop talents in all areas of life and cope wisely when things go wrong.
We further aim to provide opportunities for children to develop as independent, confident, successful learners with high aspirations, regardless of their starting point, who know how to make a positive contribution to their local community and wider society. We want our children to broaden their horizons beyond their immediate environment. This is supported by a wide range of extra-curricular activities, trips and residential opportunities. There is a focus on the knowledge and skills pupils will need in order for them to compete with their peers at college and beyond; "The heart of the discerning acquires knowledge, for the ears of the wise seek it out" Proverbs 18:15).
Key features of the curriculum at St Catherine's College are:
A three-year Key Stage Three curriculum. This ensures pupils build on skills and knowledge that will prepare them for Key Stage Four and beyond, taking into consideration their prior learning and cultural context. When students join us in Year 7, they will have already chosen a language to study: French, Spanish or Mandarin to build solid foundations for study at Key Stage Four.
A two-year Key Stage Four is followed. At Key Stage Four, pupils are given time to study and prepare for the Core and EBacc GCSE subjects, alongside PE and RE without losing the breadth of also studying a 'free' option (e.g. a creative or Performing Arts subject, Technology or a second Humanities subject). Options at Key Stage Four strongly encourage pupils to consider following the EBacc route, which includes a choice of one of the humanities subjects and a language.
A high quality PSHE programme is delivered during Tutor Worship each week, so that pupils have a wider understanding of the world we live in.